Fire rated storage containers
Sall fire rated storage containers are REI certified for all fire resistance REI classes, REI 120 is Sall standard, for the active storage of all fire hazardous materials – such as chemicals, paint, combustible dusts, and flammable liquids – in compliance with international and EU regulations and standards, EN 13501 included.
The accredited fire rated certification bodies approve in fact both the design and the construction of each REI certified flammable storage building, ensuring compliance with the regulation frame applicable for the Country and industrial sector.
This particular attention to compliance with the EU and locally-applicable norms has always been a part of Justrite and Sall DNA.
Indeed Sall has always been committed to providing the safest solutions for the storage of flammable, polluting and hazardous substances on the market.
REI 120 fire rated storage containers have been chosen as standard to provide 120 minutes of internal and external fire resistance so that fire brigade has the time to respond and manage the situation before irreparable damages.
Choosing Sall flammable stores means to choose the most effective and safe fire resistant solutions thanks to the Justrite know-how and expertise in covering fire safety requirements.
For extremely flammable liquids and materials as well as for customer specific request Sall creates custom fire rated storage buildings (such as for example in case of both flammable and corrosive substances, explosives, gas or for the storage of large volumes of hazardous liquids etc.).
Sall offers also walk-in fire rated storage containers with highly reinforced steel structures.
All the fire rated storage solutions can be equipped with  watertight integrated sump at the base, this is the best choice for all flammable liquids.
The spill containment base present a heavy load grid, allowing to use the containers not only for the storage of flammable substances but also as a safe transfer station for barrels, drums, IBCs and other primary liquid containers.
Internal acid-proof coating of the spill containment base specific for flammable and corrosive liquids is always available on request.
Specialized in manufacturing fire-rated storage containers
Fill in this form and tell us your project, we will contact you very soon for free consulting and best quotation.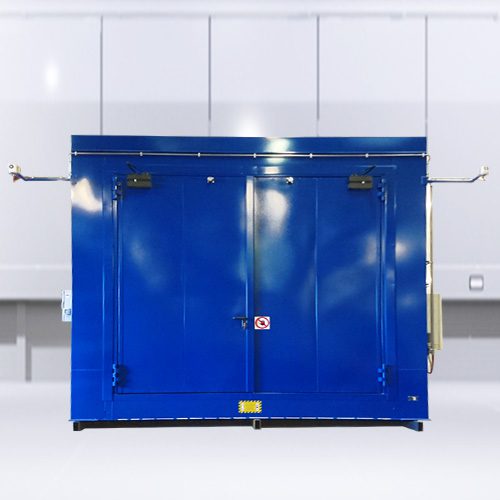 Fire-rated storage building REI 120 certified with automatic doors closure in case of fire thanks to fire detection system and equipped with automatic fire extinguishing system.
Technical features of REI certified fire rated storage containers:
Structure manufacture with materials provided of 3.1 certification in compliance with UNI EN 10204.
REI 120 is the standard, certifications for all all the other REI fire resistance classes available on request.
Thermal insulation is guarantee by the fire resistant panels made of insulating and non-combustible material.
Certified REI 120 hinged doors are also compliant with UNI 9723 standard.
Closing switch arms and electromagnetic locking system that is released in presence of fire.
Automatic door closing thanks to hydraulic closing system, with adjustment knob to optimize the opening effort, closing and final release.
Anti-intrusion safety lock.
Certified watertight steel containment base with heavy load and removable grid in compliance with UNI EN ISO 3834-2:2021
High quality C4M coating cycle, which creates an ultra-resistant protective layer even under extreme weather.
REI 120 certified sealing components to ensure waterproof performance and maximum protection of substances from external agents and rain. These components are essential to avoid chemical reactions that many substances can develop if in contact with water.
Separate control unit.
Alarm systems
Fire extinguishing automatic systems
REI 120 certified damper grilles for natural ventilation
Tailor made REI fire-rated storage containers and ATEX systems for all your needs!
ATEX forced ventilation system
ATEX air conditioning system
ATEX lighting system
ATEX cooling systems
ATEX temperature management system
ATEX gas detection systems
ATEX smoke detection systems
Multi-compartment fire rated storage containers.
Hybrid solutions for the storage of drums and IBCs
Drums and IBCs accessories for safe manual operations.
Spill pallets with anti-acid internal coating
Liquid detection system for flammable liquids storage containers
Splash guards to convey liquid into the spill containment tank at the base of the fire rated container
Walk-in solutions
Dimensions, capacity both of the structure and its components (spill containment base, shelves, etc), are designed and certified based on local regulations and customer's specifications.
Explosion-proof storage buildings on customer's request
REI certifications for all fire resistance classes according to customer's need
Benefits:
Safety and regulations compliant storage of high volumes of flammable liquids and substances.
Environmental and people safety thanks to the most advanced safety systems.
Automatic door closing system in case of fire – optional on request.
Spill containment of flammable liquids.
REI certification and compliance with Country specific and International mandatory standards and regulations.
Sall services and free consulting with fire prevention experts
Free risk analysis
Identification of the proper location for fire rated storage container
Technical consulting for tailor made solutions and customization of standard models
Free quotation
Container installation
Sall provides the most advanced high-tech solutions, equipped with smartphone notification warning systems and ATEX systems, to ensure the highest safety level for the active storage of all flammable and explosive substances.
Contact us for more technical information, services and certifications.
Discover all Sall storage containers lines
Also all the standard models can be manufactured by Sall in fire-rated version and REI certified.
The complete lines of Sall storage buildings allows the safe and norm compliant storage of most chemicals such as hazmat and polluting liquids, acids and corrosives.
Based on the type of primary container to be stored in it, such as barrels, tanks, IBC,  you can easily surf the specific lines.