Emergency Safety Showers and Eye Washes
Emergency safety showers and eye washes represent a necessary and mandatory solution for any working context in which personnel can come in contact with hazardous substances or be exposed to high temperatures.
Hughes is the Justrite brand specialized in the production of emergency safety showers, eye/face washes and decontamination equipment for over 50 years.
Emergency showers as well as eye and face washing units are the first safety response tool to use in case of contamination with hazardous chemicals, dust or metallic components.
It is indeed essential to take immediate action to prevent eventual serious injuries or possible long-term consequences, permanent disabilites and, in some cases, death.
Justrite Italia offers emergency shower and eye wash complete lines, representing a necessity for theanagement of chemical contamination for every industrial sector, in both fixed and mobile versions, for indoor and outdoor contexts.
Legal regulations declare that these safety devices must be installed and present in all environments envolving risks of contamination or exposure to acids, gases, toxic vapours or excessively high temperatures. The European standard EN 15154 and the internationally recognized standard ANSI Z358.1-2014 establish requirements for industrial eye wash stations and emergency showers.
These standards are relative to the performance, use, installation testing and maintenance of these essential safety equipment. Discover the complete lines and be prepared to prevent any injury and timely respond to any accident! Contact our experts at Justrite Italia for free technical advice and free quotes.
Emergency eye washe stations and safety showers – Suitable for any situation
Request a free quote for all Justrite decontaminating solutions, our safety experts will guide you in choosing suitable options for your needs and will carry out free, on-site risk analyses at your company.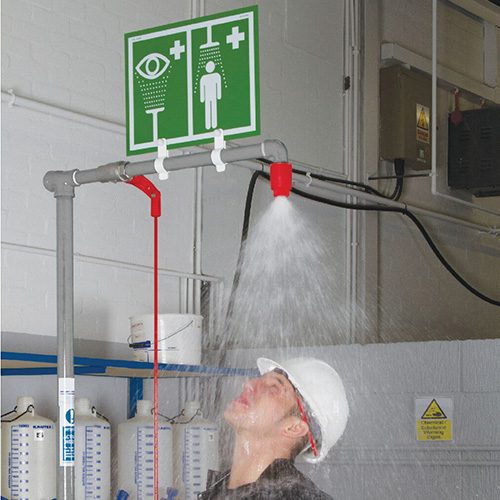 PORTABLE EMERGENCY SHOWERS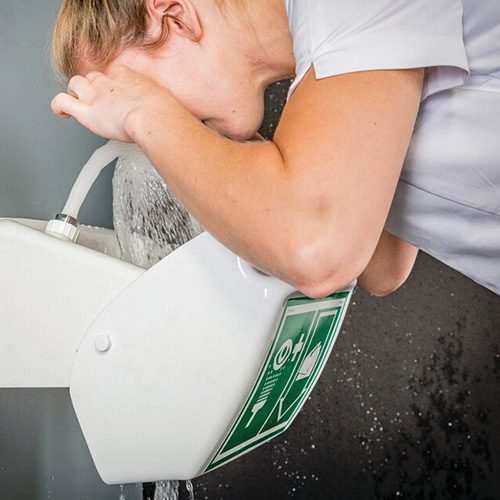 EMERGENCY EYE WASH STATIONS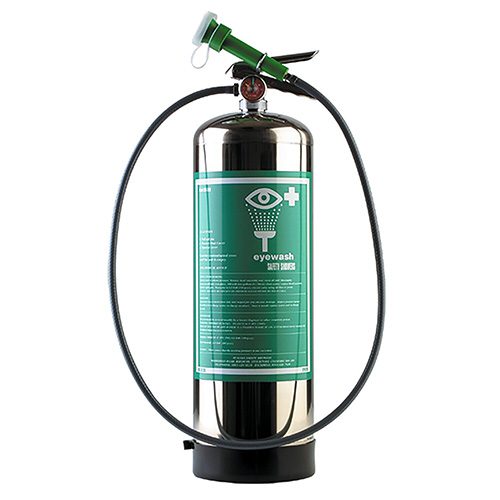 NORMS MANDATORY FOR EMERGENCY SAFETY SHOWERS AND EYE WASHES
Norm EN 15154 consists of 4 parts:
Part 1: regulates emergency showers with water connection
Part 2: regulates eye wash stations with water connection
Part 3: regulates portable emergency safety showers
Part 4: regulates portable eye wash stations
This legislation was created to regulate the presence of liquids in adequate and sufficient quantities to allow body and/ or eye washing, inside all those working environments that present a risk of contamination, an eventual contact with dangerous substances or in the event of fire.
Norm EN 15154 for safety showers establishes:
Height: The height of showers must be such that 50% of the water jet covers a radius of 200 mm from the shower center, and 95% of the jet reaches a radius of 400 mm from the centre of the shower.
Duration of water supply and flow: The capacity (in Litres) of drinkable water supplied by safety showers equipped with water connection must respect the amount of minimum Litres required by local alws and, if not present, the nit should be 60 Litres per minute and be dispensed for at least 15 consecutive minutes.
HOW TO CHOOSE THE RIGHT SAFETY SHOWER / EMERGENCY EYE WASH
Before selecting the suitable area for putting safety showers for personnel washing and decontamination, it is necessary to carry out risk analysis and assessment in the workplace.
This analysis makes it possible to determine both the quantity of Showers needed and the right location to install these emergency safety stations.
The following steps are thus recommended:
Perform a careful and accurate risk analysis
Read carefully the safety data sheets regarding hazardous chemicals managed by personnel
Read carefully the safety data sheets regarding hazardous chemicals managed by personnel
WHERE TO INSTALL THE EMERGENCY SAFETY SHOWER?
Safety showers, as well as emergency eye washes, must always:
Be positioned as close as possible to the working area presenting risks of people contamination or exposure to high temperatures.
Ensure free and easy access.
Present correct and sufficient light, even in case of power outages. The emergency shower itself must also be clearly visible and immediately identifiable with panels or signs on all sides.
WHAT SHOULD BE TAKEN INTO ACCOUNT WHEN INSTALLING THE SAFETY SHOWER AND/OR EYE WASH STATION?
Ambient temperature.
Presence or absence of factors that could contaminate the drinkable water of safety showers / eye wash stations.
Presence or absence of water connection.
Presence or absence of fire and explosion risk factors.
Presence or absence of ATEX electrical systems for fire / explosion risk areas.
Need or not to turn off the emergency shower and/ or eye wash station for maintenance or other reasons.
Possibility of risk or damage in case of water leakage when using the safety showers/ eye wash stations