Stackable Fabric Roll Stillages
Maximize fabric roll storage and forklift handling efficiency with Sall's top-quality fabric roll stillages.
Our stackable post pallets are crafted from certified steel sheet, designed for optimal warehouse storage with up to 1+2 levels of stacking even when fully loaded. Longitudinally welded skids make forklifting and positioning effortless, while closed long sides ensure maximum safety minimising the risks of fabric rolls falls during transportation.
As Justrite Safety Group's brand, Safety and top quality are paramount.This commitment to quality is also reflected in the usage of only certified and traceable quality steel as well as in the certified production process according to UNI EN ISO 9001 and the welding process compliant with UNI EN ISO 3834:2-2021. The deburring and rounding processes, subjected to rigorous controls, ensure pallets without sharp edges and with rounded corners, reducing the risks of injuries to operators and damages to fabric, leather, or paper rolls. we recommend lifting and handling one post pallet at a time, to minimize risks related to careless handling.
The multi-stage powder coating process, performed in a dedicated and exclusive Justrite plant, creates a protective film up to 100 microns thick, offering unparalleled protection against corrosion and rust. All these details and careful production ensure the highest quality and durability so that you save money, time and optimize safety and efficiency!
Choose from our two standard versions, each with a 1000 Kg load capacity, or request a custom-made stackable fabric roll stillage tailored to your specific needs, including size, load capacity, surface treatment, and paint color.
Standard Fabric Stillages
Ideal for storing and transporting fabric, leather and paper rolls.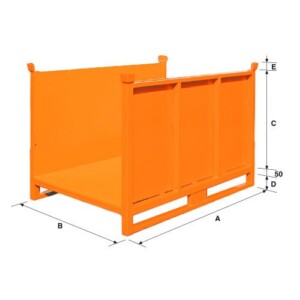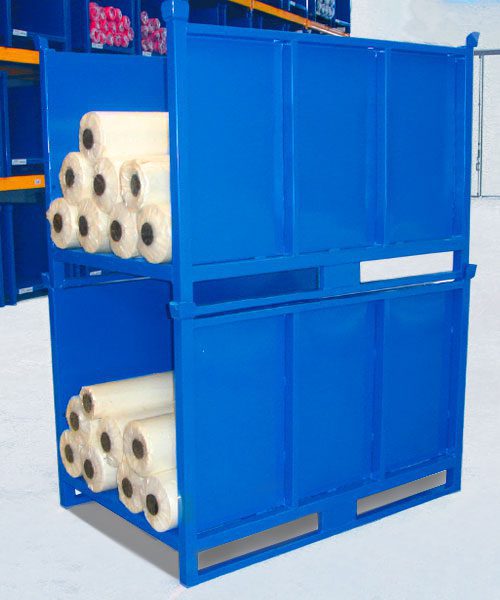 | Art. Nr. | SP 149 | SP 151 |
| --- | --- | --- |
| Dimensioni AxBxC (mm): | 1500x800x800 | 1500x1000x800 |
| Altezza da terra D (mm): | 120 | 120 |
| Altezza orecchia E (mm): | 60 | 60 |
| Spessore base (mm): | 50 | 50 |
| Tipo appoggio a terra: | Slitte lato lungo | Slitte lato lungo |
| Portata: | 1000 Kg | 1000 Kg |
| Materiale: | Acciaio | Acciaio |
| Base di appoggio: | Slitte lato lungo | Slitte lato lungo |
| Trattamento superficiale: | Verniciatura a polvere | Verniciatura a polvere |
| Sovrapponibilità: | 1+2 a pieno carico | 1+2 a pieno carico |
| Colori standard: | Arancione, blu, grigio, verde, celeste | Arancione, blu, grigio, verde, celeste |
| Altre versioni su richiesta: | Zincatura, pareti esterne lisce o grecate | Zincatura, pareti esterne lisce o grecate |
Respecting the regulations and recommendations regarding workplace safety, it is advised to handle the pallets one at a time.
What are the benefits of using Sall fabric rolls stillages?
They are designed to make the transportation and handling of fabric rolls manageable and secure.
They provide a stable base for the rolls, allowing for safe movement within the facility or during transportation for best operational safety and efficiency.
They are ideal even for the most delicate fabric,  thanks to meticulous deburring and rounding processes these fabric roll storage rack have no sharp edges that could cause injuries or fabric wrinkles, tears, damage.
They are stackable up to 3 levels fully loaded so that you can maximize vertical storage and save floor space in warehouses or other storage areas.
They feature a sturdy heavy duty structure that can withstand both heavy loads and continuous use over time.
They can be manufacture to meet the most demanding regulations that could apply in specific Countries and for textile or any other industrial sectors.
You save money and time: not only tour fabric roll stillages can accommodate various roll sizes but they also allow you to save a lot of money by both helping you to avoid fabric damages, minimizing the need for frequent replacements and people injuries. This leads to also to a significant efficiency improvement.
For all the above benefits, Sall branded fabric roll stillage racks are widely used not only in the textile industry but also in all sectors producing or trading rolls and coils of materials, such as the leather, footwear, and paper industries, among others.
Contact us for a free technical consultation to start creating with us your fabric stillage and get best quote now!
Steel pallets, best choice for palleting spool of yarns.
After bobbin winding, yarn bobbins can be palletized using a machine (palletizer) to facilitate their handling and transportation or to neatly stack them in the warehouse.
In this case, we recommends using metal pallets for their greater strength and durability, as well as their smooth and even surface, which won't damage the yarn, unlike wooden or plastic pallets that can cause splinters or breakage.
Unlike wooden pallets, steel pallets are also advantageous as they are not susceptible to termites or other insects, nor do they carry contaminants from wood treatment.
Discover the variety and quality of metal pallets produced by Sall.