Mesh Steel Stillages
Mesh Stillages and Cage Pallets represent the ideal tool for the storage of products and for the handling of bulky/ heavy materials.
Their use is particularly recommended when frequent content inspection of the recipient are required, or for quick stock checks. Mesh Stillages are widely used for the safe storage and handling of numerous products and materials in the food and beverage sector as well as pharmaceutical, chemical, textile and packaging field.
SALL Mesh Stillages have the advantage of maximum use flexibility, they can be handled both manually and with forklift truck thanks to the special wheeled frame to move products, on request.
The stackable steel structure with mesh-backed sides is made for long-lasting performance and space optimization. Standard Standard colours for all models are RAL Orange, Green, Grey, Blue and Light-Blue but any other Colour is available on request. Multi-phase coating cycle by SALL perfectly covers the recipient even in the most difficult points to reach, creating an ultra-resistant and thick surface that guarantees maximum resistance to rust, corrosion and weather conditions.
Sall Mesh Still Stillage Range are available in Standard Versions:
With Skids
With Boxed Feet
Both Versions also have the following variants to meet any need:
No Door
Mesh Door on Long Side, Short Side or Both Sides to have easy access to the content, when stillages are stacked in the Warehouse.
3/4 Lowered Wall for immediate access to the content, when stillages are stacked
Sall has an array of different sized Mesh Stillages with different load capacities to suit all applications:
Light Series: 500, 700, 800, 1000 Kg.
Heavy Series: 1500 Kg.
Higher load capacities or customizations of Mesh Standard Stillages are available on request.
STANDARD OR PERSONALIZED ACCESSORIES AVAILABLE FOR SALL MESH STILLAGES:
Removable card holder
Removable or hinged lid
Wheeled frame for easy handling
Internal Separating Panels
Mesh steel stillages with boxed feet – Technical data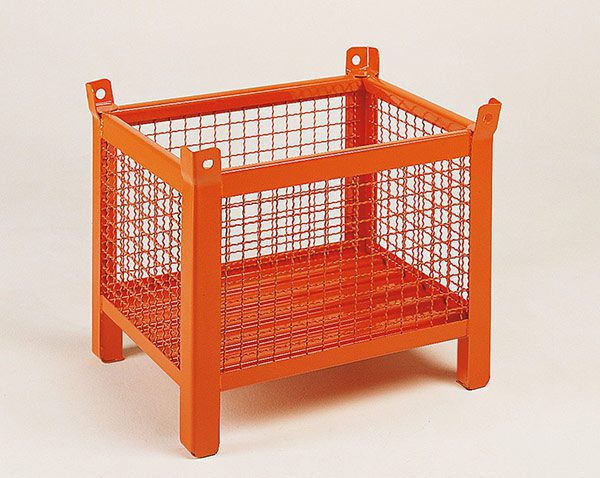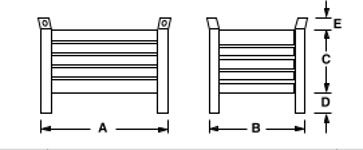 Art. n.
A (mm)
B (mm)
C (mm)
D (mm)
E (mm)
Portata (Kg)
SR046
800
500
500
130
65
500
SR101
800
600
400
130
65
500
SR100
800
600
500
130
65
500
VERSIONE:
Serie leggera
MATERIALE:
Acciaio
COLORI STANDARD:
Arancione, Blu, Verde, Grigio, Azzurro
BASE D'APPOGGIO:
Piedi
PORTE:
Senza porta
PARETI:
In rete tamponata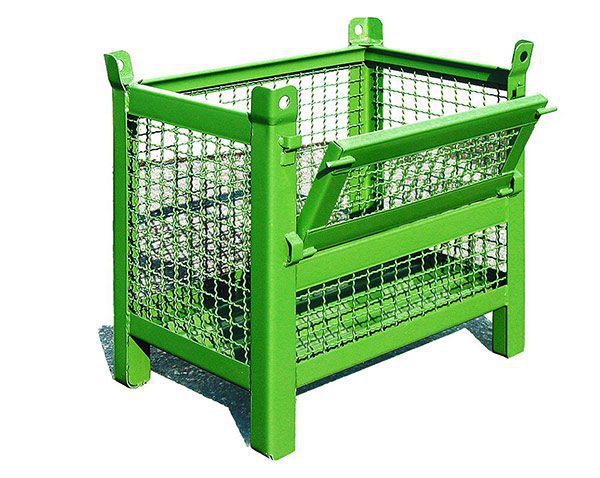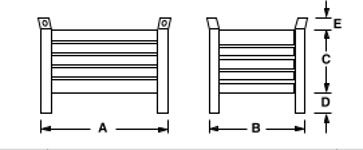 Art. n.
A (mm)
B (mm)
C (mm)
D (mm)
E (mm)
Portata (Kg)
SRP046
800
500
500
130
65
500
SRP100
800
600
500
130
65
500
VERSIONE:
Serie leggera
MATERIALE:
Acciaio
COLORI STANDARD:
Arancione, Blu, Verde, Grigio, Azzurro
BASE D'APPOGGIO:
Piedi
PORTE:
Porta in rete lato lungo
PARETI:
In rete tamponata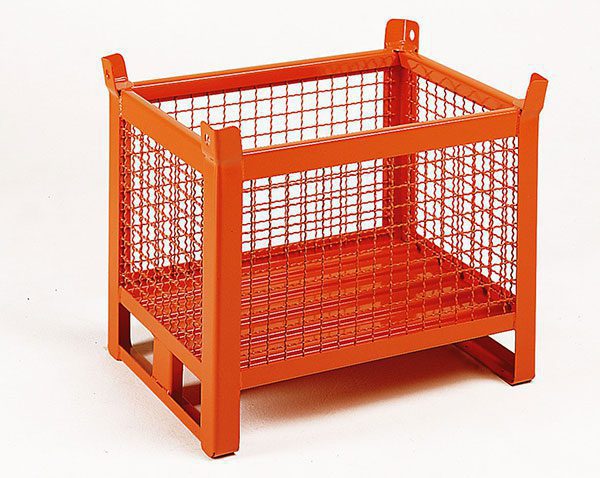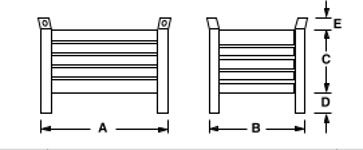 Art. n.
A (mm)
B (mm)
C (mm)
D (mm)
E (mm)
Portata (Kg)
SR102
800
500
500
130
65
700
SR104
800
600
400
130
65
700
SR103
800
600
500
130
65
700
VERSIONE:
Serie leggera
MATERIALE:
Acciaio
COLORI STANDARD:
Arancione, Blu, Verde, Grigio, Azzurro
BASE D'APPOGGIO:
Slitte lato corto
PORTE:
Senza porta
PARETI:
In rete tamponata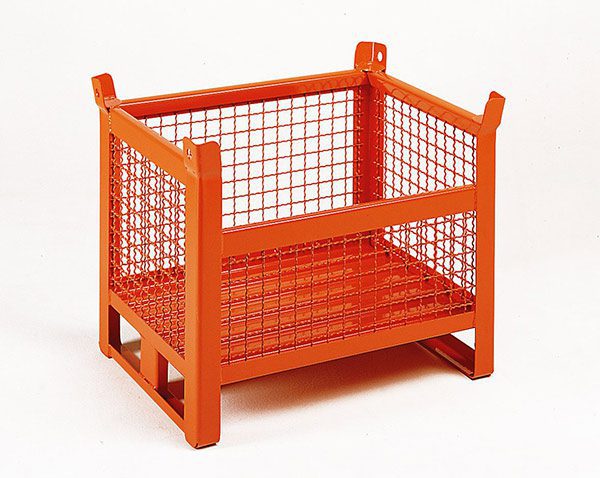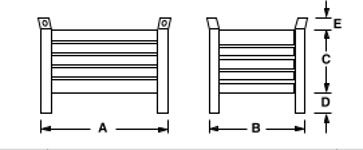 Art. n.
A (mm)
B (mm)
C (mm)
D (mm)
E (mm)
Portata (Kg)
SR105
800
500
500
130
65
700
SR107
800
600
400
130
65
700
SR106
800
600
500
130
65
700
VERSIONE:
Serie leggera
MATERIALE:
Acciaio
COLORI STANDARD:
Arancione, Blu, Verde, Grigio, Azzurro
BASE D'APPOGGIO:
Slitte lato corto
PORTE:
1 parete lato lungo a 3/4
PARETI:
In rete tamponata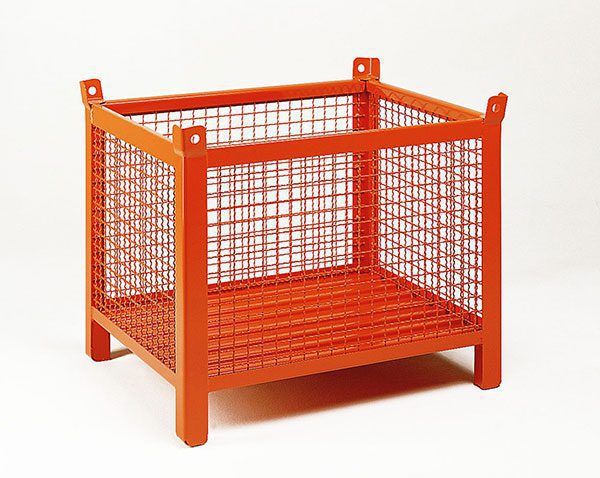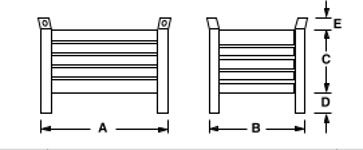 Art. n.
A (mm)
B (mm)
C (mm)
D (mm)
E (mm)
Portata (Kg)
SR035
1000
800
650
130
65
800
SR108
1200
800
650
130
65
800
SR109
1200
1000
650
130
65
800
SR110
1500
800
650
130
65
800
SR040
1500
1000
650
130
65
800
VERSIONE:
Serie leggera
MATERIALE:
Acciaio
COLORI STANDARD:
Arancione, Blu, Verde, Grigio, Azzurro
BASE D'APPOGGIO:
Piedi
PORTE:
Senza porta
PARETI:
In rete tamponata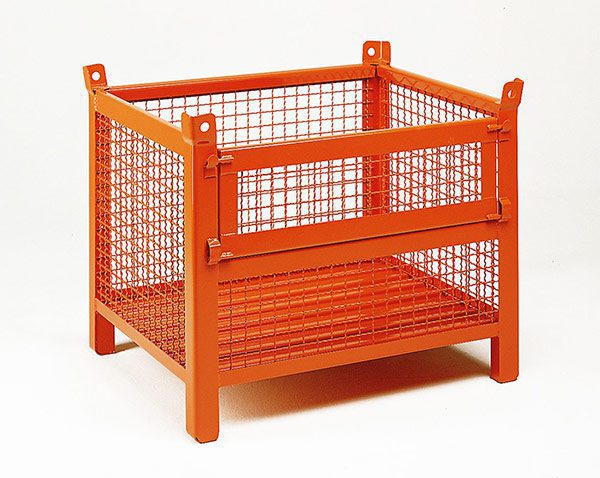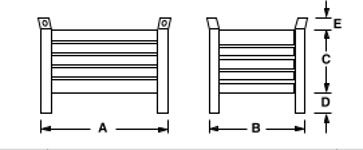 Art. n.
A (mm)
B (mm)
C (mm)
D (mm)
E (mm)
Portata (Kg)
SR034
1000
800
600
130
65
800
SR111
1000
800
650
130
65
800
SR036
1000
800
800
130
65
800
SR112
1200
800
650
130
65
800
SR113
1200
800
800
130
65
800
VERSIONE:
Serie leggera
MATERIALE:
Acciaio
COLORI STANDARD:
Arancione, Blu, Verde, Grigio, Azzurro
BASE D'APPOGGIO:
Piedi
PORTE:
Con porta lato lungo
PARETI:
In rete tamponata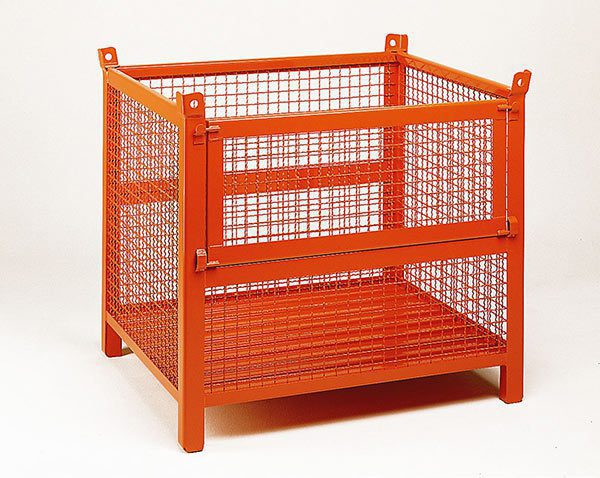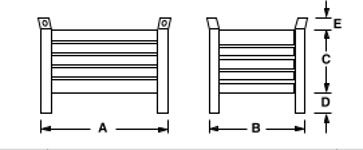 Art. n.
A (mm)
B (mm)
C (mm)
D (mm)
E (mm)
Portata (Kg)
SR119
1200
1000
650
130
65
800
SR120
1200
1000
800
130
65
800
SR037
1200
1000
930
130
65
800
SR121
1200
1000
1000
130
65
800
VERSIONE:
Serie leggera
MATERIALE:
Acciaio
COLORI STANDARD:
Arancione, Blu, Verde, Grigio, Azzurro
BASE D'APPOGGIO:
Piedi
PORTE:
Porte sui 2 lati lunghi
PARETI:
In rete tamponata
Gitterbox compatible stacking mesh pallets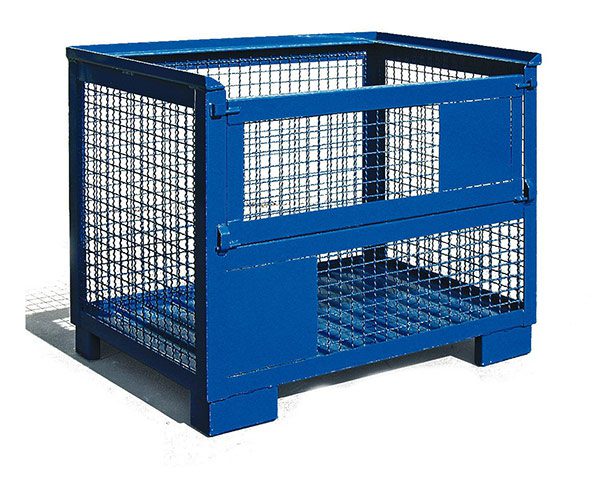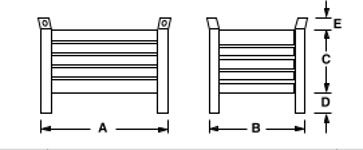 Art. n.
A (mm)
B (mm)
C (mm)
D (mm)
E (mm)
Portata (Kg)
SR12185
1225
820
830
100
40
1000
VERSIONE:
Serie Pesante
MATERIALE:
Acciaio
COLORI STANDARD:
Arancione, Blu, Verde, Grigio, Azzurro
BASE D'APPOGGIO:
Piedi
PORTE:
Porta lato lungo
PARETI:
In rete tamponata
Technical features – Mesh steel stillages with skids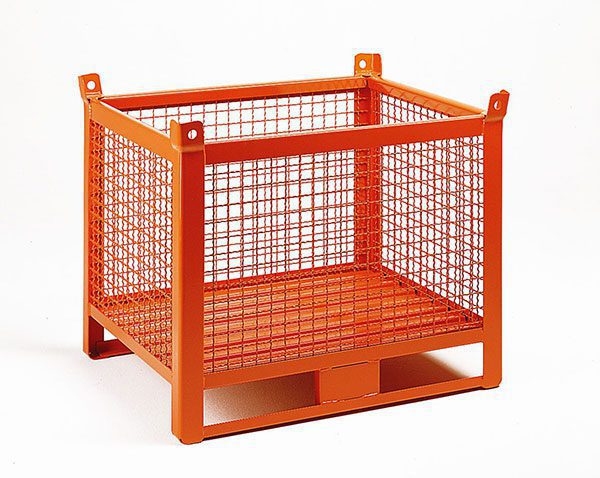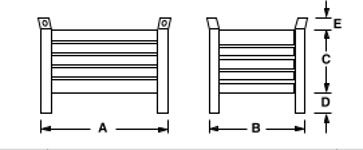 Art. n.
A (mm)
B (mm)
C (mm)
D (mm)
E (mm)
Portata (Kg)
SR0172
1000
800
400
130
65
1000
SR173
1000
800
500
130
65
1000
SR038
1000
800
650
130
65
1000
SR174
1200
800
400
130
65
1000
SR175
1200
800
500
130
65
1000
SR114
1200
800
650
130
65
1000
SR115
1200
1000
650
130
65
1000
SR116
1500
800
650
130
65
1000
SR117
1500
1000
650
130
65
1000
VERSIONE:
Serie pesante
MATERIALE:
Acciaio
COLORI STANDARD:
Arancione, Blu, Verde, Grigio, Azzurro
BASE D'APPOGGIO:
Slitte lato lungo
PORTE:
Senza porte
PARETI:
In rete tamponata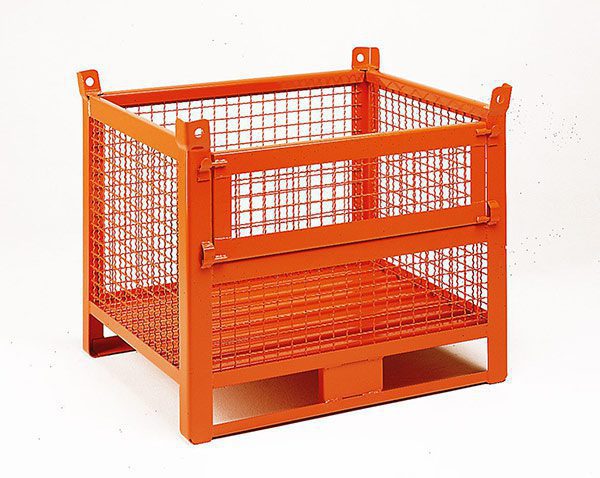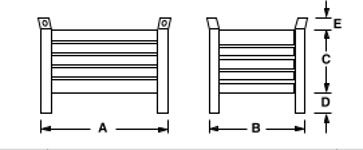 Art. n.
A (mm)
B (mm)
C (mm)
D (mm)
E (mm)
Portata (Kg)
SR039
1000
800
650
130
65
1000
SR041
1000
800
800
130
65
1000
SR042
1200
800
650
130
65
1000
SR043
1200
800
800
130
65
1000
SR176
1200
1000
800
130
65
1000
SR176H
1200
1000
1000
130
65
1000
SR177
1500
800
650
130
65
1000
SR118
1500
1000
650
130
65
1000
SR178
1500
1000
800
130
65
1000
VERSIONE:
Serie Pesante
MATERIALE:
Acciaio
COLORI STANDARD:
Arancione, Blu, Verde, Grigio, Azzurro
BASE D'APPOGGIO:
Slitte lato lungo
PORTE:
Porta lato lungo
PARETI:
In rete tamponata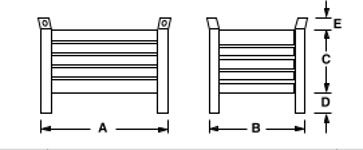 Art. n.
A (mm)
B (mm)
C (mm)
D (mm)
E (mm)
Portata (Kg)
SR131
1000
800
650
130
65
1000
SR132
1200
800
650
130
65
1000
SR133
1200
1000
650
130
65
1000
VERSIONE:
Serie Pesante
MATERIALE:
Acciaio
COLORI STANDARD:
Arancione, Blu, Verde, Grigio, Azzurro
BASE D'APPOGGIO:
Slitte lato lungo
PORTE:
1 porta lato lungo e 1 porta lato corto
PARETI:
In rete tamponata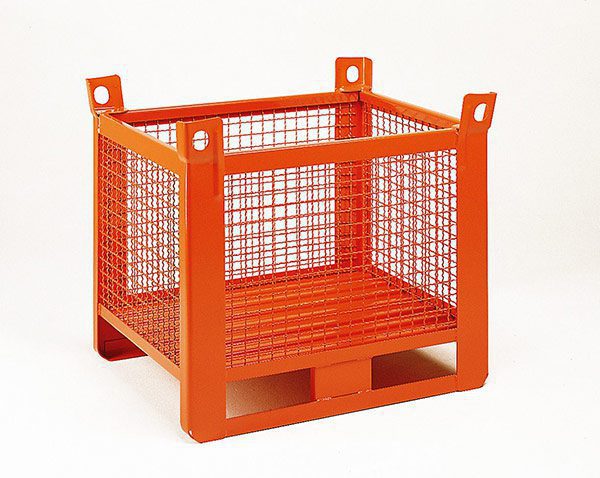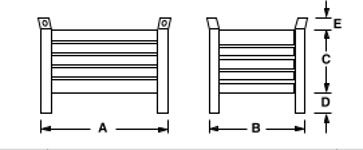 Art. n.
A (mm)
B (mm)
C (mm)
D (mm)
E (mm)
Portata (Kg)
SR045
1000
800
650
150
110
1500
SR122
1200
800
650
150
110
1500
SR123
1200
1000
650
150
110
1500
VERSIONE:
Serie pesante
MATERIALE:
Acciaio
COLORI STANDARD:
Arancione, Blu, Verde, Grigio, Azzurro
BASE D'APPOGGIO:
Slitte lato lungo
PORTE:
Senza porta
PARETI:
In rete tamponata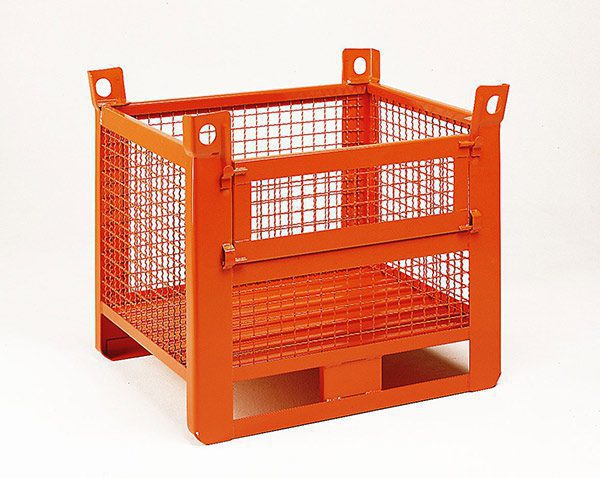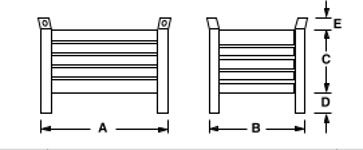 Art. n.
A (mm)
B (mm)
C (mm)
D (mm)
E (mm)
Portata (Kg)
SR044
1000
800
650
150
110
1500
SR124
1200
800
650
150
110
1500
SR125
1200
1000
650
150
110
1500
VERSIONE:
Serie Pesante
MATERIALE:
Acciaio
COLORI STANDARD:
Arancione, Blu, Verde, Grigio, Azzurro
BASE D'APPOGGIO:
Slitte lato lungo
PORTE:
Porta lato lungo
PARETI:
In rete tamponata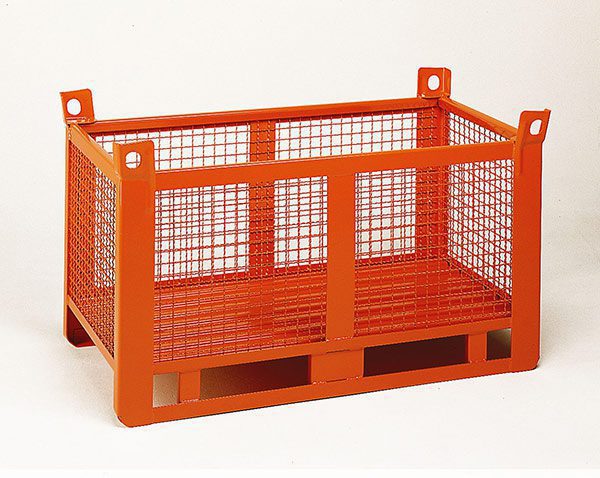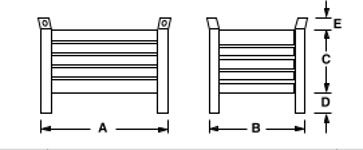 Art. n.
A (mm)
B (mm)
C (mm)
D (mm)
E (mm)
Portata (Kg)
SR126
1500
800
650
150
110
1500
SR127
1500
1000
650
150
110
1500
VERSIONE:
Serie Pesante
MATERIALE:
Acciaio
COLORI STANDARD:
Arancione, Blu, Verde, Grigio, Azzurro
BASE D'APPOGGIO:
Slitte lato lungo
PORTE:
Senza porta
PARETI:
In rete tamponata